Case Study Format Architecture Firms
HPD Architecture gets it.
Plain and simple.
This three-person Dallas-based architecture and interior design firm has made progress in the social media world that you just don't see every day; especially compared to other professional services firms.
By blogging, podcasting, and interacting with the design community online, these guys have raised their visibility to a national level. And in a world of referrals and word-of-mouth marketing, they are driving serious traffic to their website and generating targeted, qualified leads online.
How can three busy people accomplish this? I had the opportunity to chat with HPD vice presidents Laura Davis (@hpdArchitecture) and Larry Paschall (@ArchHappyHour) to find out.
Embrace it, Commit to it, and Don't Look Back
HPD started their quest for online success in 2009. Like many firms new to the digital space, the team was unsure of how to get going and what to expect. With the economy tanking and eager to find a new marketing channel, they turned to social media to increase market exposure and lessen their dependencies on referrals.
"Our original goal was brand awareness," said Laura. "We opened our doors in 2008, and nobody knew who we were.  It was important to increase visibility in order to survive in the rough economy."
At the time, the firm had no website. So while Davis was creating a website, she set up Facebook and Twitter pages and began exploring their possibilities. Before long, HPD became conviced that social media was a legitimate long-term marketing channel that would increase awareness of the firm in their local community and industry.
Find Your Position Before You Start Running
Before HPD began spreading the word online, they realized it was necessary to have a concrete brand strategy. In working sessions the team hashed out a range of critical issues, such as:
Who is HPD?
What do we stand for?
Who are our target clients and how do we reach them?
What is our position in the marketplace and what are our messages?
These fundamental working sessions proved to be crucial. The firm's positioning as an architecture and design resource allowed the firm to gain traction in noise-flooded places such as Twitter. In fact, it is largely why they are so well known online today.
Why Use One Weapon When You Have Many?
Once HPD's brand strategy was in place, they took advantage of several online marketing platforms:
Twitter  – Davis and her team began following people relevant to their community. They invested a significant amount of time meeting design community members and finding ways to add value to discussions. Initially they interacted with local folks, but over time their reach expanded geographically. The network grew as Davis shared links to interesting content on other design websites, gradually building trust and credibility.
Facebook – The firm uses their Facebook page as a place to post interesting articles. Again, the goal was to build a reputation as a resource for the architecture and design community. By talking about the industry and not directly promoting HPD itself, they've created a high quality educational resource where people could find and retrieve information.
Podcasts – After seeing other companies have success with webinars, HPD decided to try their hand at a similar media form: audio podcasts. Their branded series, called The Architecture Happy Hour, is a monthly audio recording of Laura and Larry talking about anything from tips for home owners to gays in architecture. The team uses social media to promote the podcast, and over time they have built a following of loyal subscribers.
Blog – Some companies use their blog to talk about their firms' latest and greatest accomplishments. By contrast, HPD uses its blog to spotlight innovative and interesting happenings within its community. It also used this space to summarize podcasts and re-publish interesting discussions. The blog is another place for the team to share expertise, interact, and develop trust.
Kindergarten Basics – Sharing is Good
In a world filled with spam, promotions, and other noise, the last thing community members want to see in their Twitter feed is an advertisement or press release. HPD understands this, and from day one they have built relationships — and their reputation — on the quality of content that they share.
Their thinking goes like this: people who share carefully selected industry news, photos and articles will be respected and followed. Before HPD had any content of their own to contribute, they were promoting other websites and influencers. And once they had a podcast to share, followers were all ears.
A One-Hour Workout Per Day
The HPD team dedicates on average an hour per day on social media efforts. This includes:
Recording and editing podcasts
Interacting, responding, and sharing on Twitter
Sharing content on Facebook
Writing blog posts
One tool HPD has found useful is Hootsuite. This software allows a person to manage multiple accounts and platforms from one place. If Laura wants to share an article on two Twitter accounts, a Facebook page, and a LinkedIn profile, she can do it quickly and efficiently with Hootsuite.
Yes, You Still Have to Get Off Your Butt
An important note to add to this discussion is that all three HPD team members still go out and network at live events, including their own monthly happy hour. They have not given up on in-person networking, but they have supplemented traditional marketing tactics with social media.
Meeting someone digitally is no replacement for shaking a live hand, especially in a field such as architecture where people are the product. Preliminary findings from Hinge's ongoing online marketing research study tells us that the fastest growing companies are employing both traditional and digital forms of marketing. Before you allocate all of next year's marketing budget to social media, remember that a good old fashioned cocktail can still be an effective way to start a business relationship.
Is It Worth It?
Most marketing companies out there will tell you social media is necessary. But what does a firm that's actually doing it and has been for two and a half years have to say?
Larry Paschall:  "When Laura walked in one afternoon and told us that we were on Facebook and Twitter, Holly and I were pretty skeptical that it was going to generate work for our firm.  However, in the last two and half years, our online presence has led to our being interviewed for various publications, speaking at industry conferences, and being seen as a go-to resource both inside and outside of the design community.  More importantly, new clients are finding us online."
Google has noticed the online activity. HPD's website and blog are being indexed and qualified leads are coming to the site from valuable search terms, such as "home design in Dallas." These qualified leads are a direct indicator that their online efforts are paying off.
HPD started with a goal to increase visibility in the marketplace. That I'm sitting half way across the country writing about their success indicates that their strategy is working.
Here's how you can get in touch with HPD:
Karl Feldman As the head of Hinge's A/E/C practice, Karl brings over 15 years of insights to the Hinge team, with experience blending marketing strategy, execution, and creative leadership. His career spans retail, professional services, and A/E/C industries. Karl has held leadership positions at national brands including Director of Marketing at HITT contracting and The Healthy Back Store. His open and inquisitive nature is balanced by a hands-on approach working with teams from concept to completion.
Why does a client even come to an A/E firm's website? This blog outlines the 3 reasons clients come to your site and gives 3 examples of firms that do it well
Setting aside how a client actually got there in the first place (be it email marketing, online search, social media, or simply typing in the URL), why do they bother coming at all? And, no, I'm not fishing for the obvious answer — to hire you; though that's logically an end goal (assuming it's a well qualified prospect we've built our firm to effectively serve). What I'm really asking is, what are they looking for?
It's my experience that a client comes to a firm's site for three reasons. We call them the 3 P's, and they're the fundamental building blocks of an A/E firm's modern marketing website. They are:
Perspective — They visit the site to access your firm's thought leadership; to gain insight on critical business issues they face as it's authored by the subject matter experts in your firm.
People — They come to take a peek inside your firm into the people that actually do the work. To explore who they are, how they think, what's important to them, and to get a sense of whether your firm is someone they could actually see themselves working with.
Portfolio — And, of course, they come to gauge the experience of your firm and to decide whether it's relevant to their specific business situation. Have you designed facilities similar to theirs? Do you have the experience necessary to help them overcome the fundamental challenges they face.
What's Critical is the Connectivity of All Three
While the framework itself is pretty simple, delivering it elegantly and effectively is not. Where I see most firms fall down is by treating each of these three aspects of the site as silos. Each area is only really accessible through the primary navigation, and is effectively left with its own isolated, navigational structure. Essentially, the site is using "brute force navigation" — it's forcing the user back to the primary navigation to move between sections and explore:
What the site needs to be doing is intersecting these three sections dynamically. It should be using "user-driven navigation" that lets users explore from one section to another based on what they're reading and what interests them. This takes a more sophisticated web platform and more time and cost to develop. It requires an effective prototyping process to plan the site and the technology that But, the result is an experience that allows a user to follow a thread based on what they find most interesting. I can start reading an article and follow a thread based on the topic of it, the person who wrote it or something else entirely. The site uses technology to deliver a more compelling user experience. This article provides 3 examples of architecture firms that are doing this effectively.
Populous
Focused almost exclusively on sports, Populous has designed some of the world's most notable and successful stadia, arenas, ballparks and convention centers. The firm's website is a really effective example of user-driven navigation applying the 3 P's model.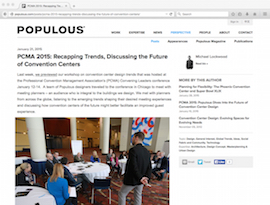 Perspective
The firm has been publishing an array of useful thought leadership for over 3 years. From any single post, it's very easy to navigate to other topical articles, to find more posts by that individual author, and to learn more about the architect who wrote it.
People
In addition to being well-written and giving you a real sense of the firm's culture and personality, a Populous bio connects a client with projects that architect has been a part of, recent blogs they've written, and any industry publications they've authored.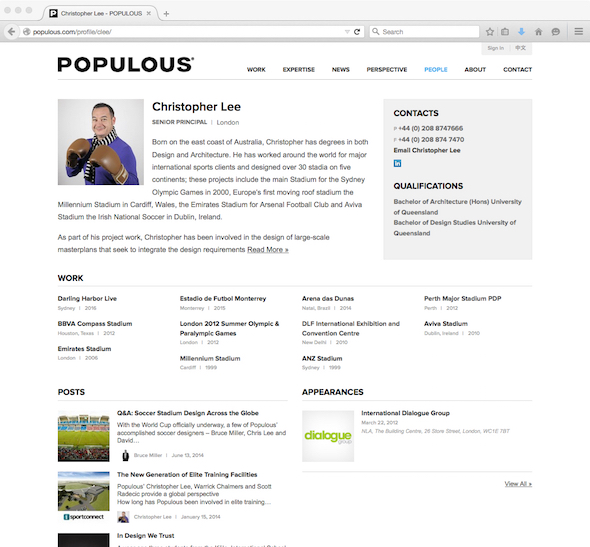 Portfolio
Each of the firm's project profiles brings together all aspects of the 3 P's model. Scrolling from top to bottom, you can see that the firm prominently features some of the team members on the project, perspective articles that relate to the project, and other similar case studies.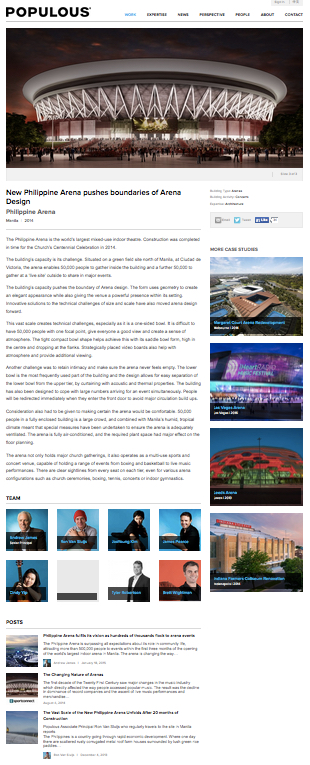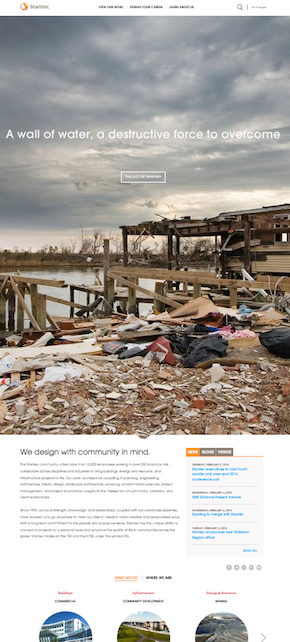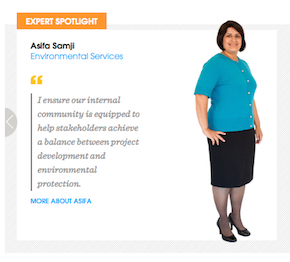 Stantec People are Profiled Towards the Bottom of the Page
Each market sector functions like a mini-portal of sorts, highlighting the firm's experience, relevant perspective, project portfolio and key people in the market.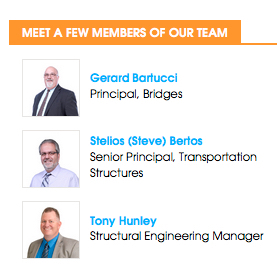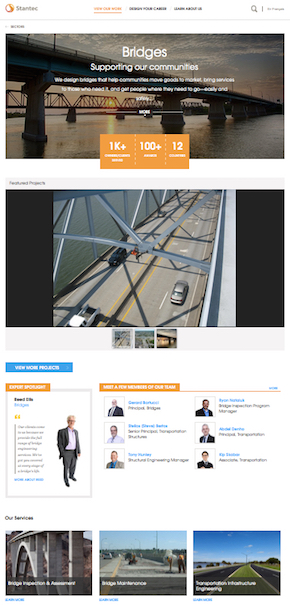 Stantec Sector Page for Bridges
Perspective
All their articles are effectively authored and enable you to browse to other articles of interest based on subject.
People
A click on an author's name, reveals their bio. Each bio, in-turn, connects you to their published content and projects they've been a part of.
Portfolio
Each project profile features project details and connects you to similar related projects.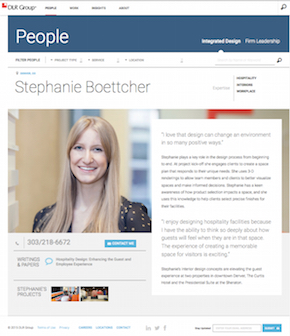 A DLR Group Architect's Bio
Stantec
With over 15k employees and 250 offices, Stantec is one of the 25 largest A/E firms in the nation. Despite it's scale, the current version of the firm's website, launched within the last year or so, is fairly simple. It essentially spreads the 3 P's throughout the site and relies heavily on user-centered navigation to let you stumble upon them.
Perspective + People
The simplicity of the site starts directly on the homepage. As you scroll down the page, you can dive into any one of its market sectors to learn more about its expertise, or you can access its Perspective (via the Blog on the right) or its People (towards the bottom).
Portfolio
One of the more interesting features of the site is the feature, "View a Project Near You," that appears towards the bottom of a variety of site pages. This feature uses simple geolocation services to highlight a project the firm has completed near the person viewing the page. This is a good example of using site personalization to make the firm's global scale and reach feel local and accessible. (For more on personalization, read my blog on the topic or my 2014 talk at KA Connect).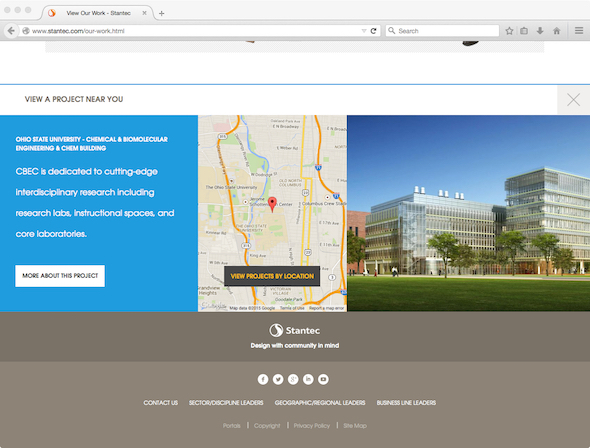 Sectors Tie It All Together
Locations Tie It All Together
One of the more interesting features of the DLR Group website is its office pages. On most firm websites, an office page is little more than an address, a phone number, and a Google map. DLR Group has used it's 3 P's methodology to deliver a highly relevant site page that brings together not only the details of an office location, but also the key people in that office, and some of the projects the firm has designed within that region.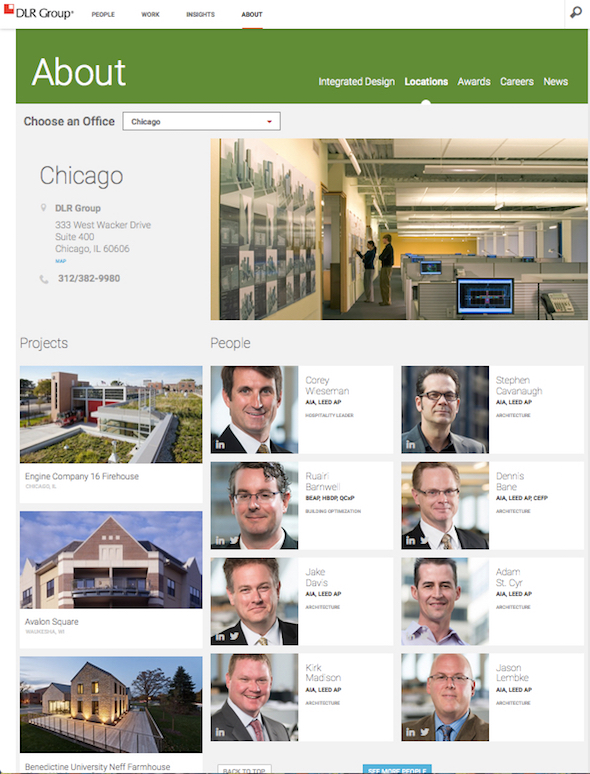 Does It All Matter? Closing Thoughts
Each of these firms relies on user-centered navigation to effectively move potential clients through the three critical aspects of their firm's site — their perspective, their projects and their people.
It takes a fair amount of planning and some smart use of technology to build sites in this way, which raises the ultimate question, "Is it worth it?" A firm's expertise is only valuable if it's both tangible and accessible.
Making Expertise Tangible
You make your expertise tangible by publishing useful perspective, demonstrating your perspective is valid by showing it applied in your past projects, and documenting that expertise as available by showcasing the people that make it all happen. If you didn't write about it, you don't know anything about it. If you don't have a project like it, clients assume you've never done it. If you don't showcase the people that make it happen, clients question if they're still there.
Making Expertise Accessible
When you use technology to intelligently connect these three areas of your site, you're making expertise accessible. You're enabling a client "to feel" the depth of your knowledge and expertise in a way that's natural and intelligent to them. And, you gracefully rise to the top of their short list.